FILM DR. MABUSE, DER SPIELER (GER 1922)
---
---
DATA SHEET
DR. MABUSE, DER SPIELER
1.: DER GROSSE SPIELER -- EIN BILD DER ZEIT
2.: INFERNO, EIN SPIEL VON MENSCHEN UNSERER ZEIT

DR. MABUSE, THE GAMBLER
1.: THE GAMBLER
2.: INFERNO


Directed by:
Fritz Lang.
Written by:
Thea von Harbou (from the novel by Norbert Jacques).
Production company:
Uco-Film GmbH, Berlin for Decla-Bioscop AG, Berlin.
Executive Producer:
Erich Pommer.
Photography:
Carl Hoffmann.
Set design:
Carl Stahl-Urach (died during shooting of part 1),
Otto Hunte,
Erich Kettelhut,
Karl Vollbrecht.
Costume design:
Vally Reinecke.
Cast:
Rudolf Klein-Rogge (Dr. Mabuse),
Aud Egede Nissen (Cara Carazza, dancer),
Gertrud Welcker (Countess Told),
Alfred Abel (Count Told),
Bernhard Goetzke (von Wenk),
Paul Richter (Edgar Hull),
Robert Forster-Larrinaga (Spoerri),
Hans Albert Schlettow (Georg, chauffeur),
Georg John (Pesch),
Karl Huszar (Hawasch),
Grete Berger (Fine),
Julius Falkenstein (Karsten),
Lydia Potechina (Russian Woman),
Julius E. Herrmann (Schramm),
Karl Platen (Told's Servant),
Anita Berber (Dancer),
Paul Biensfeld (Man with gun),
Edgar Pauly (fat man),
Julie Brandt,
Auguste Prasch-Grevenberg,
Adele Sandrock,
Max Adalbert,
Gustav Botz,
Heinrich Gotho,
Leonard Haskel,
Erner Hübsch,
Gottfried Huppertz,
Hans Junkermann,
Adolf Klein,
Erich Pabst ,
Hans Sternberg,
Olaf Storm,
Erich Walter.
Studio / Locations:
Decla-Bioscop-Atelier Neubabelsberg,
Jofa-Ateliers Berlin-Johannisthal (shot Nov 1921 - Mar 1922).
Première:
Part 1: 27 Apr 1922, Ufa-Palast am Zoo, Berlin;
Part 2: 26 May 1922, Ufa-Palast am Zoo, Berlin.
Censorship data:
Part 1:
Berlin 27 Apr 1922 (no. 05744), 6 acts, 3496 m, prohibited for children.
Part 2:
Berlin 17 May 1922 (no. 05827), 6 acts, 2560 m, prohibited for children.
Restoration data:
2000: restored by Bundesarchiv-Filmarchiv, Berlin, Filmmuseum München and Friedrich Wilhelm Murnau Stiftung, Wiesbaden. Première 7 Feb 2001 (part 1), 8 Feb 2001 (part 2), Berlin film festival (Berlinale). Released on dvd 2004 (Transit Film). Review

back to top
---
ABSTRACT
Dr. Mabuse is not only the most famous psychoanalyst of town but also a master of diguise, a hypnotist, and leader of a criminal organization which is terrorizing the town's citizens. His antagonist is district attorney von Wenk who is trying to stop Mabuse's cruel and power-hungry intentions. Only one of them can survive, the other one is destined to end up in a lunatic asylum.

back to top
---
REVIEWS
-- o --
Dr. Mabuse, der Spieler

Der erste Teil dieses mit ziemlicher Spannung erwarteten Films zeichnet sich durch eine sehr achtsame Spielführung und ausgezeichnete schauspielerische Leistungen aus. Hinzu kommen technische Vorzüglichkeiten, die diesen Kriminalfilm weit über seinesgleichen hinausheben. Man muß bedenken, daß es im Grunde ein Detektivfilm ist, für den die alles beherrschende Macht des Verbrechers und nicht die gegen ihn eingesetzte Autorität des Staates den Ton angibt. Dem Film liegt der gleichnamige Roman von Norbert Jacques zu Grunde, der seinerzeit in der "Berliner Illustrierten Zeitung" viel Aufsehen erregt hat. Die Bearbeitung für den Film hat Thea von Harbou übernommen, und die Spielleitung lag in den Händen von Fritz Lang, dessen Name seit dem "Müden Tod" unter den ersten seines Faches genannt werden darf.

Das Ziel dieses Filmes mußte darauf gerichtet sein, die bezwingende Genialität des verbrecherischen Dr. Mabuse wie einen roten Faden durch die Handlung hindurchzuführen und seine Unwiderstehlichkeit ebenso wie seine Ueberlegenheit als geradezu selbstverständliche Eigenschaften und Begabungen zu gestalten. Wie bei jedem Kunstwerke bedurfte es demnach bestimmter Abrundungen mit Rücksicht auf die Gesamtwirkung. Dem Film stehen bekanntlich, anders als dem Bühnenschauspiel, nur die optisch vermittelnden Eindrücke zur Verfügung. Die Erregung des Zuschauers erfolgt rein über das Auge, und es sollte nie vergessen werden, daß deshalb Dehnungen stets die Gefahr mit sich bringen, aus dem Tempo herauszufallen. Auf der Bühne schafft das Wort, im Film schafft das Bild. Die Wirkung des Bildes entsteht nicht nur aus seinem Inhalt, sondern auch aus seiner Bewegtheit. Diesem Erfordernis trägt auch der vorliegende Film Rechnung, obgleich er stellenweise Kürzungen gebrauchen könnte. Kürzungen, um es recht zu verstehen, nicht als Verkürzungen vorhandener Vorgänge, sondern es hätte mancher Vorgang zwar im ganzen erhalten, aber etwas mehr belebt werden dürfen. Das ist es, was oben mit Tempo gemeint war.

Der unbedingte Publikumserfolg des Films ist weniger in der Besonderheit dieser Verbrechergestalt begründet, als vielmehr in seiner Form. Einiges wirkt sogar unglaubwürdig. Aber die fabelhaft konzentrierten Leistungen von Rudolf Klein-Rogge als Dr. Mabuse und Bernhard Goetzke als Staatsanwalt und Aud Egede Nissen in Verbindung mit den schon erwähnten Vorzügen technischer und photographischer Art -- ausgezeichnete Nachtatelierbilder von Straßen! -- sind es in erster Linie, die den Film zum Erfolge führen. Auch die übrigen Rollen, getragen von Paul Richter, Gertrude Welcker, Lydia Potechina, von Schlettow und Alfred Abel, sind sehr gut besetzt.
Der Film (Berlin) vol. 7, no. 18, 30 Apr 1922, p. 52.
H.W. [Hans Wollenberg]
Dr. Mabuse, II. Teil

Ein Ungewöhnliches ward hier Tatsache: Der Film endet literarischer, psychologischer, feiner als der Roman. Hier: Wasserflugzeug -- Akrobatik; äußerlicher Kintopp-Knalleffekt. Dort, in Thea von Harbous Kurbelbuch: seelisch-geistiger Kollaps eines Übermenschen, Überverbrechers, Überhypnotiseurs. Ein logischer und innerlich berechtigter Ausklang in Moll -- gleichzeitig die stärkste, überzeugendste Spielszene des Hauptdarstellers Klein-Rogge, dem sonst, trotz aller Maskierungskünste, jene Dämonie gebricht, die den Filmschurken zum düster-genialen "Spieler mit Menschen" erheben müßte. Nur zweimal geht sonst dämonisch-unheimliche Wirkung von diesem Mabuse aus (als er überraschend dem Verfolger in dessem eigenem Zimmer gegenübertritt und dann, als er in der Maske des Massensuggestiors Weltmann das Instrument eines Massenauditoriums handhabt); in beiden Szenen hat Langs hervorragende Regietechnik an dieser Wirkungswahl den Hauptanteil. Der Regie und der Photographie (Carl Hoffmann) kann man kein besseres Kompliment machen, als festzustellen, daß sich der zweite Teil absolut auf der brillanten Höhe des ersten hält. In einem Punkte übertrifft er ihn sogar: im Darstellerischen. Und hierbei macht Alfred Abel unbedingt das Rennen, dessen große Szenen (unterstützt freilich wieder von einer unerhörten Regie- und Aufnahmetechnik) zu den besten filmdarstellerischen Leistungen gehören. Meisterhaft ist auch die Todesszene der Nissen; sehr starke Partien hat Goetzke. Forster-Larrinaga, Schlettow, John, Huszar liefern Kabinettstücke. Was Hunte und Stahl-Urach an Baukunst im Atelier geleistet haben, verdient höchste Bewunderung.

Ein Wort noch über den Gesamteindruck dieses Mabuse-Films, der, trotz seiner äußeren Zweiteilung, ein organisches Ganzes bildet. Daß hier durch hohe Könnerschaft, durch virtuose Technik im Verein mit künstlerischem Feingefühl etwas Großes und Starkes geschaffen ist, bewies der nachhaltige Eindruck, unter dem der Ufa-Palast an beiden Premierenabenden stand. Der Regisseur Fritz Lang und alle mit ihm arbeitenden Kräfte haben bewiesen, daß ein ganz auf verbrecherische Motive gestellter Film durch die Art der Stoffverarbeitung zu einem Werk von Inhalt werden kann; auch hier heißt es eben: Der Ton macht die Musik.
Lichtbild-Bühne (Berlin) vol. 15, no. 22, 27 May 1922, p. 35.

back to top
---
ADS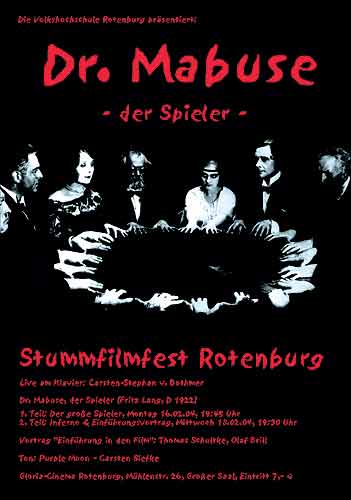 Poster for our 16/18 Feb 2004 Rotenburg screening.

back to top
---
ADAPTATIONS
1921/22
Dr. Mabuse, der Spieler (novel)
Norbert Jacques' original novel first appeared serialized in the newspaper Berliner Illustrierte Zeitung. Lang started shooting his film adaptation before the last chapter was published. A book version followed in 1922.


1923
Ingenieur Mars (novel)
In Jacques' follow-up Mabuse appears in Cologne. The story is about engineer Mars and his intended transatlantic flight with a newly constructed aeroplane.


1930
Mabuses Kolonie (novel)
Unfinished fragment by Jacques about Mabuse's colony, at the beginning of which district attorney von Wenk (who married Countess Told after the events of Mabuse, der Spieler) is murdered.


1931
Der Chemiker des Dr. Mabuse (novel)
This is the original title of another story by Jacques, published in 1934 as Chemiker Null (Chemist Zero) with all references to Mabuse erased.


1932
Das Testament des Dr. Mabuse (novel)
Original title of Jacques' last Mabuse novel, adapted for the screen in the same year, again by Fritz Lang. Published 1950 as Dr. Mabuses letztes Spiel (The Last Game of Dr. Mabuse).


1932
Das Testament des Dr. Mabuse (film)
Detective superintendent Lohmann, after hunting Peter Lorre in M, is back for duty in Lang's Mabuse sequel. The film was banned in Germany by Goebbels.


1960
Die 1000 Augen des Dr. Mabuse (film)
Almost thirty years later, Fritz Lang returned to Germany to shoot some flicks for Artur Brauner's CCC film production, including this first Mabuse remake.


1961
Das Testament des Dr. Mabuse (film)
Second film of the new German Mabuse series, directed by Werner Klingler, starring Gert Fröbe as superintendent Lohmann. A remake of Lang's 1932 film.


1961
Im Stahlnetz des Dr. Mabuse (film)
Third film of the new German Mabuse series, directed by Harald Reinl, now famous for his later Winnetou, Edgar Wallace and Jerry Cotton films (and, oh yes, he also did a Nibelungen remake).


1962
Die unsichtbaren Krallen des Dr. Mabuse (film)
Fourth film of the new German Mabuse series, again directed by Harald Reinl, starring Lex Barker and Karin Dor. Also, in a small part, Carl de Vogt.


1963
Scotland Yard jagt Dr. Mabuse (film)
Fifth film of the new German Mabuse series, directed by Paul May, starring Peter van Eyck and Walter Rilla, in a minor role Klaus Kinski.


1964
Die Todesstrahlen des Dr. Mabuse (film)
Sixth and final film of the new German Mabuse series, directed by Hugo Fregonese, again starring van Eyck and Rilla.


1969
Die lebenden Leichen des Dr. Mabuse (film)
This became the German title of the British movie Scream and Scream Again starring Vincent Price, Christopher Lee and Peter Cushing, which otherwise has nothing to do with Mabuse.


1970
Der Mann, der sich Mabuse nannte (film)
In the year he also made Eugenie (de Sade) and Vampyros Lesbos, Spanish director Jess Franco (as Frank Manero) did La venganza del Doctor Mabuse, including appearances of Siegfried Lowitz and Wolfgang Kieling.


1990
Dr. M (film)
Claude Chabrol's homage to Lang's Mabuse films, filmed 1989, in the year of Lang's 100th birthday and German reunification.


2000
Mabuse (comic book)
In this six part comic book series by Isabel Kreitz, Eckart Breitschuh and Stefan Dinter, Mabuse returns one more time, for instance being responsible for the 1998 train crash in Eschede, Germany.


2003
Die toten Augen vom Elbstrand (novella)
As no. 50 in a series of crime thrillers published by the newspaper Hamburger Abendblatt, author Frank Göhre scripts Dr. Mabuse's return -- in Hamburg. The grand-grand children of von Wenk and countess Told get involved.



back to top
---
filmhistoriker.de, edited by olaf brill.

Last update (this page): 08 Oct 2004.

The texts and images on this site are copyright © by the respective authors, except where otherwise noted. Mostly, the items were published by kind permission, but we were not able to find out all the copyright holders or their legal successors. If you know about them, please let us know, especially if there's anything wrong with publishing these texts or images. We do not intend to harm anyone's rights and thought we best serve the purpose of understanding film and general history displaying this source material and make it available for everyone.

If no author or source is noted, the texts are copyright © 1996-2006 Olaf Brill.



Impressum

Datenschutz