Later articles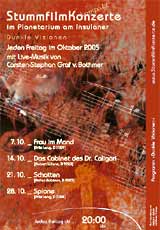 07 Oct 2005

NEWS BERLIN SILENT FILM CONCERTS RETURN

The new season is open. The Berlin "silent film concerts" (

StummfilmKonzerte), featuring live music by Berlin composer and pianist Carsten-Stephan Graf v. Bothmer, return for a new series this month. Every Friday in October, the new series themed "Dark Visions" is showing visionary films of Weimar cinema, ranging from science fiction romance to spy story to expressionist psycho thriller. Venue: Planetarium am Insulaner, Berlin-Schöneberg. Films: Oct 7:

FRAU IM MOND (Woman in the Moon, 1929, Fritz Lang), Oct 14:

DAS CABINET DES DR. CALIGARI (The Cabinet of Dr. Caligari, 1920, Robert Wiene), Oct 21: SCHATTEN (Warning Shadows, 1923, Arthur Robison), Oct 28:

SPIONE (Spies, 1928, Fritz Lang).

Eine neue Saison beginnt. Die

"StummfilmKonzerte" mit Live-Musik des Berliner Komponisten und Pianisten Carsten-Stephan Graf v. Bothmer starten diesen Monat in eine neue Staffel. Unter dem Titel "Dunkle Visionen" gibt es jeden Freitag im Oktober einen visionären Film der Weimarer Republik, Zukunftsmärchen ebenso wie früher Spionage-Thriller und expressionistischer Psycho-Krimi. Veranstaltungsort ist das Planetarium am Insulaner, Berlin-Schöneberg. Die Filme: 7.10.:

FRAU IM MOND (1929, Fritz Lang), 14.10.:

DAS CABINET DES DR. CALIGARI (1920, von Robert Wiene), 21.10.: SCHATTEN (1923, Arthur Robison), 28.10.:

SPIONE (1928, Fritz Lang).


---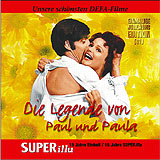 01 Sep 2005

NEWS "DIE SCHÖNSTEN DEFA-FILME" AUF DVD

Tipp für Fans der DDR-Filmgeschichte: Ab heute bringt die in Berlin erscheinende Wochenzeitschrift

Super-Illu, nach eigenen Worten "ein Kind der Einheit", zwölf herausragende DEFA-Filme auf DVD heraus. Nach dem Motto "15 Jahre Einheit / 15 Jahre Super-Illu" erscheinen die DVDs als Beileger innerhalb eines Jahres jeweils in der zu Monatsbeginn erscheinenden Ausgabe. Die Sonderausgaben mit DVD kosten je 2,99 €.

Die Edition entsteht in Zusammenarbeit mit

Icestorm Entertainment, Träger des Willy-Haas-Sonderpreises des letztjährigen

CineFests, und enthält die bereits von Icestorm herausgebrachten Fassungen mit sämtlichem Zusatzmaterial. Die Veröffentlichung beginnt in der heute erscheinenden Ausgabe mit Heiner Carows Kult-Liebesfilm DIE LEGENDE VON PAUL UND PAULA (1973, mit dem Puhdys-Song "Geh zu ihr").

Dann folgen innerhalb eines Jahres SPUR DER STEINE (1966), DAS SINGENDE, KLINGENDE BÄUMCHEN (1957), DIE GESCHICHTE VOM KLEINEN MUCK (1953), DIE SÖHNE DER GROSSEN BÄRIN (1966), NACKT UNTER WÖLFEN (1963), FÜNF PATRONENHÜLSEN (1960), DAS KALTE HERZ (1950), DER UNTERTAN (1951), KARBID UND SAUERAMPFER (1963), SIEBEN SOMMERSPROSSEN (1978) und HEISSER SOMMER (1968). ...

more


---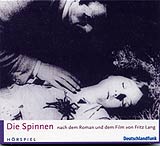 18 Aug 2005

NEW AUDIO CD DIE SPINNEN

"The Golden Lake", first part of

Fritz Lang's film series

THE SPIDERS, and published as a serialized novel in a German film magazine in 1919, has now being adapted into an audio play by Michael Farin, who also did

DR. MABUSE and

METROPOLIS before. Helmut Krauss is the narrator, Siemen Rühaak a young Kay Hoog, and Claudia Mischke a wicked Lio-Sha in this entertaining, well cast, and faithful production.

"Der goldene See", das erste Buch von

Fritz Langs "Abenteurer"-Serie

DIE SPINNEN ist ein leidenschaftlicher Abenteuerroman irgendwo zwischen "Schatz im Silbersee" und James Bond, mit wilden Schießereien, Verfolgungsjagden zu Lande, zu Wasser und in der Luft, Geheimbotschaften, einem versteckten Inka-Tempel, einer ruchlosen Verbrecherorganisation, einem strahlenden Helden, einer tödlichen Schurkin, Liebe und Gefahr, und einem tragischen Ende ...

more


---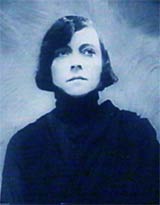 25 Jul 2005

NEWS COLOURED HAMLET PRINT FOUND

Hitherto only known in black and white, a coloured print of Svend Gade's and Heinz Schall's 1921 non-Shakespearean

HAMLET adaptation turned up in a private film archive in Germany now. It's the only known version including the original German intertitles, a 35mm print with seven different tintings/tonings and over 100 intertitles. Furthermore, it's a completely different cut, including a prelude preceding the traditional six acts. The Deutsches Filmmuseum Frankfurt am Main is arranging a restoration scheduled for public release in 2006 at a retrospective celebrating Asta Nielsen's 125th birthday.

Asta Nielsen stars in the leading part as Prince Hamlet, "a Sarah Bernhard of film", as one contemporary critic wrote, "so boyish that in the meantime one forgot that he was supposed to be a girl." Look up our

extended coverage!

back to top
---
filmhistoriker.de, edited by olaf brill.

Last update (this page): 05 Oct 2009.

The texts and images on this site are copyright © by the respective authors, except where otherwise noted. Mostly, the items were published by kind permission, but we were not able to find out all the copyright holders or their legal successors. If you know about them, please let us know, especially if there's anything wrong with publishing these texts or images. We do not intend to harm anyone's rights and thought we best serve the purpose of understanding film and general history displaying this source material and make it available for everyone.

If no author or source is noted, the texts are copyright © 1996-2009 Olaf Brill.



Impressum

Datenschutz